Whether there is or is not a worldwide epidemic, the globe continues to turn. And let's face it, there has never been a better time to reflect on where we are and give that enticing new watch purchase some serious thought. Oh yeah, we have a lot of time on our hands. So, here are the 25 Best Casual Watches for Men!
The sheer number of designs, complexity, and brands available may be a little intimidating if you're in the market for a new timepiece right now. Therefore, which ones merit your time and, more significantly, your hard-earned money? Selecting a top-notch watch might be difficult, but this list of the top men's watches available can guide your search. In the world of men's fashion, these expertly examples of contemporary art and science are inevitable. And this list includes examples from a variety of trends and companies.
Rolex Day-Date
All Rolex timepieces exude class, glitz, and style. However, none more so than the Day-Date, a Rolex that, for a time, is only available in 18k yellow gold, 18k white gold, or 18k Everrose gold. The latter of which was so opulent that it served as Rolex's own version of gold. The Day-Date is famous as "the president's watch" with good reason. Following was a platinum version. Which strengthened the watch's rarity in every way because platinum is expensive to produce, difficult to work with, and makes the watches exceedingly hefty.
Timex GMT Q
The first Q Timex was released in the late 1970s, and its popularity peaked in the middle of the 1980s. When it was re-released in 2019, its two-tone bidirectional "Pepsi" bezel—a design that had previously fallen out of favor—made it a best seller once more. Because of its affordable pricing, it made a fantastic first watch for some people or a fantastic second "beater" watch for others. A GMT version is now available, pushing the price up to a still-reasonable £200 and adding a number of design improvements. Such as attached circular hour markings and a straightforward square date display.
Swatch X Omega Bioceramic MoonSwatch
One of the biggest marketing events of the year was when Omega and Swatch announced they were producing a £207 plastic version of their £5,000 Speedmaster "Moonwatch". This news resulted in coverage in the national press, and lines around the block at 6 am. And resale listings that were more expensive than the model it was based on. However, not all attention was positive considering that someone appeared to have been attacked for theirs outside a Swatch store in New York. Given how well high-low collaborations have served streetwear, other watch firms are likely to engage more given the buzz this has generated. Few names, though, will be as pleasantly prepared as "MoonSwatch."
Zenith Defy Skyline
The majority of people really enjoy vintage Zenith goods. The popularity of El Primero's "Revival" reproduction bears this out. People got crazy when the marque re-released the Defy, a famous oddity that dated back to 1969.
Precisely so. Given that it is by the El Primero movement and that it functions effectively. You can be sure that it will be a winner when the inevitable re-re-release occurs. It also has a faintly futuristic feel about it.
Nordgreen Pioneer Black Dial Chronograph
This is the pinnacle of Scandinavian simplicity. The Pioneer watch by Nordgreen is a tough wristwatch designed for men who work outside all day. The robust 42mm chronograph watch includes a Japanese quartz mechanism and an elegant yet tough concave display. Black, blue, and white are the possible dial colors, and silver, rose gold, and gunmetal are the available case colors.
By using the promo code NEXTL at the checkout, you may receive a Nordgreen Pioneer watch for 15% less as a special deal for readers of Next Luxury.
Oris Big Crown Pilot Okavango Air Rescue Limited Edition
The watch industry lately developed a passion for sustainability, just like any other industry, to varying degrees of success. Oris has been ahead of the curve for years, promoting numerous ethical practices on land and at sea. Their timepieces already provided some of the finest value in the entire luxury wristwatch market.
It stated that by the end of 2021 it would be "climate neutral". Meaning that everything from its manufacturing to its boutiques, watches, and other products will have no adverse effects on the environment. Oris has released a limited-edition Big Crown ProPilot to celebrate Okavango Air Rescue of Botswana's 10th anniversary in recognition of this not insignificant accomplishment. It was appropriately influenced by nature. Its color is also appropriate—green.
TAG HEUER Aquaracer Professional 300 Nightdiver
Earlier this year, Tag Heuer's Aquaracer Professional 300 series underwent a redesign. It was more of an evolution than a revolution, with small changes that enhanced an incredibly popular watch (date window now at… 6 o'clock! but that didn't make it any less effective.
The Nightdiver, with its all-black design and distinctive lume dial, joins the other eight models. The DLC-coated variant in black ceramic, which is offered in three variations, is our top pick since it is a powerful badass remix of well-liked watches.
Junghans Blue Max Bill Chronoscope
Unlike your other Swiss watch companies, Junghans is unique. Sure, it has a Swiss manufacturing pedigree. However, it has a more mid-century feel, opting to celebrate its German heritage. The Bauhaus style, and Concrete Art movement creator Max Bill, whose name is lent to this blue chronoscope.
It's another example of clean, classic minimalism from a company that forgoes the customary Fancy Stuff in favor of a watch you can wear everywhere, created as a tribute to the influential artist.
Rotary Automatic Mens GB05410/05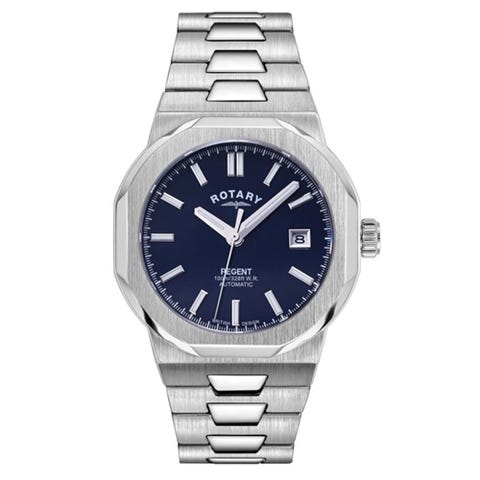 It's tempting to treat a pricey watch like a priceless biblical artifact; it's too valuable to remove from the box and too precious to wear. It makes sense to purchase a less expensive watch for daily use that looks just as beautiful as any high-end Swiss item for this reason. For that, Rotary is a terrific brand.
The Automatic GB05410/05 is a watch that may fit in with a variety of settings. The weekend is a good time to use it. It's sort of athletic. However, it's also ideal for the workplace. And a blue on steel color scheme will go with practically everything in your closet.
Hermès H08 39 x 39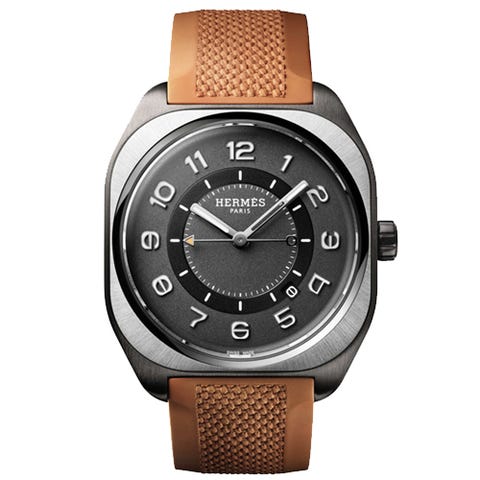 The H08, which is called the "most Hermès watch ever," is as menswear-y and French as it gets without giving up "prestige" to the ancient Swiss greats. Hermès continues to compete with them head-to-head. The acclaimed aesthetic of design director Véronique Nichanian is now extended by a satin-brushed titanium wash rather than being detached from it. There's a reason she's held the position for 30 years.
Tudor Black Bay Chronograph 2021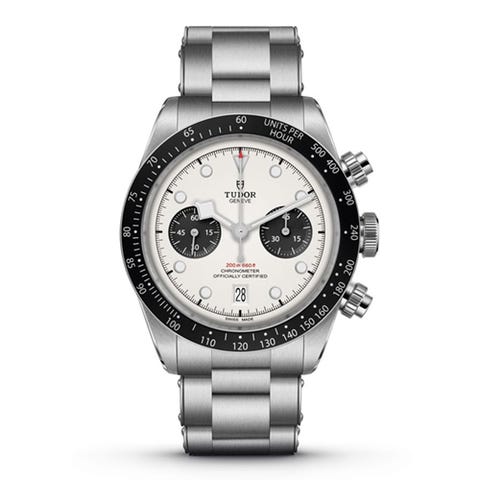 Ask a watch enthusiast for a reliable, well-regarded all-arounder, and they'll likely recommend a Tudor Black Bay. Tudor's signature piece, which was first introduced in the middle of 2012. It has quickly risen the ranks to become a sort of entry-level holy grail. And now that a brand-new chronograph has been released, there is a watch that eerily resembles a "Paul Newman" Rolex Daytona.
It's legal because both brands have a good working connection. The benefit of Tudor is that it is far less expensive.
Timex x NN07 40mm Stainless Steel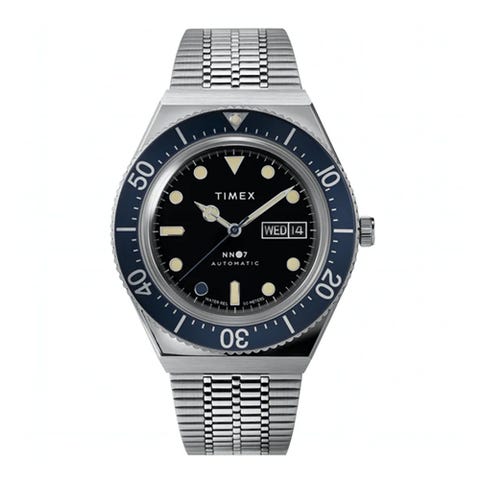 The kind of elegant, simple, Nordic menswear company you frequently see outside Soho offices is Copenhagen-based NN07. Timex is the kind of stylish, illustrious, minimalist watch that is common in Soho workplaces. Combining them results in the kind of SYNERGY that is frequently discussed in Soho workplaces.
It's the kind of watch that can be worn everywhere. And won't break the bank thanks to a collaboration that plays to the strengths of each company. Additionally, as there are only 777 pieces available, it is not available elsewhere.
Seiko Prospex x PADI SPB181J1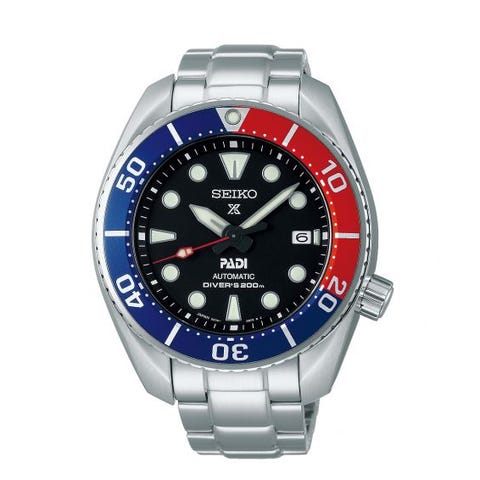 Nowadays, true divers seldom ever wear diving watches. Or rather, they frequently wear wrist-mounted computers with digital displays and sensors for anything from pressure readings to oxygen levels in their diving watches. However, Seiko's Prospex brand of timepieces is the only one authorized to display the logo of the Professional Association of Diving Instructors. Because divers do wear them (PADI). The most recent product of their ongoing partnership is an interpretation of Seiko's "Sumo" watch, which was given that name for its bulbous profile and large 12 o'clock marker. It features incredibly legible Lumibrite hands and markers, as well as the distinctive 4 o'clock screw-down crown and Pepsi bezel.
Doxa Sub 200 Professional
Beyond £1,000, the watch world swiftly opens up to you. The Doxa Sub 200 Professional is a gorgeously vibrant no-brainer for those looking for a treasure of a watch with the real pedigree that nevertheless qualifies as an impulse purchase. The ideal dive watch for summer is also offered with a rubber band, but who could possibly resist this vivid orange strap?
Vacheron Constantin FiftySix Day Date Limited Edition
The 265-year-old high-end watch manufacturer now uses 21st-century hashtags, the most recent of which is the grammatically dubious #OneOfNotMany. Well, at least it fits. As its newest model is a numbered limited edition of 30, Vacheron is not in the mass production industry, with prices starting in the tens of thousands. The combination of the stainless steel case, petrol blue dial, and brown leather strap is stunning, and the sapphire case back showcases Swiss watchmaking at its pinnacle. Another mild nod to the times, exclusive to online clothing company Mr. Porter.
Rolex Oyster Perpetual 36
Wearing a Rolex is a significant investment. Consequently, a careful watch. Although a large Day-Date has a strong presence on Wall Street, the largest brand in the market is introducing watches that are a little bit whimsical and enjoyable, like the new Oyster Perpetual 36.
The off-duty Rolex collectors' ideal off-duty watch has a tangerine dial on stainless steel, and even better, it's not alone: the Oyster Perpetual 36 is part of a wider series of five watches in candyfloss pink, forest green, sky blue, and blood red.
Tissot Couturier T0356171605100 Black Leather Swiss Quartz
The black band of this watch is from sturdy leather and has a synthetic sapphire crystal pane. This accessory's exquisite elegance may flawlessly match any fashion, and it is works by the wearer's motion.
Hamilton American Classic Intra-Matic
The industry wasn't originally centered in Switzerland. American manufacturers also had a presence in the watches industry. Combining Main Street aesthetics from tiny towns with large, spectacular movements. In the lead was Hamilton.
It has recently re-released a 1968 historical piece. Although it boasts modern, sophisticated Swiss internals, nothing little about the outside has changed. And that's advantageous. For all the luxury and splendor of a diamond-studded automatic from the Jura, a Midwesterner's "aw shucks" attitude has just as much charm.
Bamford GMT
A lovely mechanical steel watch from independent London watchmaker George Bamford that was "influenced by travel". His attention to precision has led to collaborations with prestigious watches companies like Tag Heuer and Zenith. But Bamford's own collection is consistently worthwhile. The GMT hand function allows you to concurrently monitor the time in two distinct time zones, and it is with a striking blue and orange dial.
Oris Hangang Limited Edition 01
Oris wouldn't be able to produce its large, striking dive watches without the deep blue sea. As a result, the Swiss brand has a solid tradition of supporting subaqueous organizations. For its most recent act: the Limited Edition Oris Hangang.
The Hangang Limited Edition, which is available in conjunction with the Korea Foundation for Environmental Movement, donates a portion of its proceeds to the cleanup of the same-named river, which is the second-longest in South Korea. The watch's execution matches its good aims, with an automatic movement driving an emerald dial (inspired by the Hangang River's source creeks) and an etched case back showing the river's course through Korea.
Tissot Heritage 1973 Chronograph
The Swiss company got its start in motor racing in the 1950s, but it didn't achieve its greatest success until the 1970s when it sponsored competitors in the Le Mans 24-hour endurance races and won first place on the podium with the French automaker Alpine at the Monte Carlo Rally World Championship. The Navigator, Tissot's first mechanical racing watch, is revisited in this year's Heritage release with a few new improvements. The date window is moved to between 4 and 5 o'clock, the three-dial panda configuration inside the 43mm polished steel case is highlighted with green Super-LumiNova indices and sporty small neon-orange counters, and it's all mounted on a period-appropriate black perforated leather racing strap. There is a race to catch up with one as there are only an acceptable 1,973 pieces available.
Longines Hydroconquest (green)
Longines' main modern diving watch line now has a green version in addition to blue, black, and grey variations. The color green is now popular in the watches industry, and this particular model strikes the perfect balance between being military-inspired and fashionable. It comes in two casing sizes, 41mm and 43mm, and is 300-meter water-resistant.
G-Shock GA-2100
The G-Shock GA-2100, often referred to as the CasiOak informally is a stylish and incredibly reasonably priced ripoff of Audemar Piguet's legendary Royal Oak sports watch. It features a tough body, 200m of waterproofing, and that gorgeous octagonal bezel.
Bulova 98B104 Marine Star Calendar
This watch is a gem of aesthetic beauty due to the remarkable contrast between the rose gold stainless steel case and the black dial on the face. They use roman numerals as hour markers, and it includes luminescent skeleton hands.
Nomos Glashütte Tangente Neomatik Platinum Grey
Nomos Glashütte was established in East Germany shortly after the fall of that massive dividing wall, in contrast to the majority of the Swiss old guard. Therefore, it has a simple, retrofuturistic design that is reminiscent of those dated, slightly menacing Vladimir Mayakovsky posters.
The most Nomos Glashütte-like Neomatik to date, in my opinion. However, it functions just as well as it does, thanks to an automated movement and a rotor that winds the mainspring in both directions. German manufacturing remains quite strong after unification.